It's Workout Wednesday!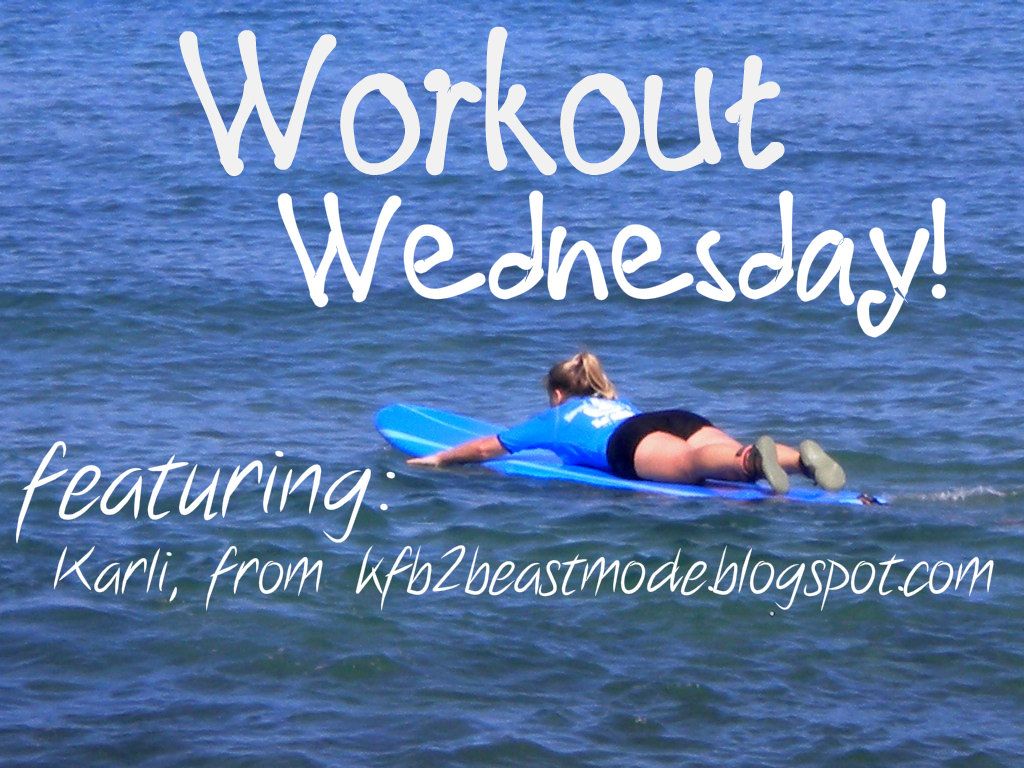 I am going to switch things up a bit for Workout Wednesday this week.  Today, we will be discussing a specific style of exercise that I have fallen in love with.  This style has recently become very popular and is widely known as CROSSFIT.
–
Instead of reading my nonsense, I have a really special guest post for all of you!
–
Meet Karli!
Karli and I recently found out that we have a lot more in common than our love for health and fitness.  She and I both went to the same college!  Sadly, I never met this woman while in college (nor have I met her to date), but I am happy to have her post on my blog today so you all can meet this wonderful gal 🙂
–
Read all about Karli and her adventures at kfb2beastmode.blogspot.com.
————————————————————————————————————————————-
GUEST POST:
When Jenna asked me to write a guest post, I was so excited! This is
my first guest blog post, and on top of that….It's for Jenna! who
coincidentally went to the same college as me! I stumbled upon Jenna's
site through being a fellow Sweat Pink Ambassador. I was looking for
other SPAs that enjoyed weight lifting and/or CrossFit.
–
This month I had the opportunity to compete in my FIRST CrossFit
competition (I competed in the "scaled" division and my team came in
5th place out of 24 teams) Truthfully, this is like living a dream! My
life has always revolved around fitness and sports. Flashback six
years ago, I was recruited to play volleyball at Indiana University of
Pennsylvania. It wasn't until after I was recruited that I actually
applied to the college! The only reason I decided to attend was to
play collegiate volleyball. I loved it, but only played 2 years. My
senior year of college I had to attend classes at a university in
Ohio….this is where I first heard of CrossFit. A friend of mine
invited me to try a class, but I never did and actually thought it
sounded crazy…Like, in the "why would I pay that much to have someone
tell me to lift heavy weights when I can do it myself?" way. By this
time, I was studying for my personal trainer certification, so I knew
how to plan workouts and had the determination to do them.
–
My workouts were intense, but they were usually around 2 hours long
and consisted of mostly isolated movements followed by an hour on some
cardio machine, or I would do long runs to train for my half-marathon.
I was getting stronger and maintaining weight instead of gaining, but
I wanted to see more changes in my body. On May 6th, 2012 I ran the
Pittsburgh half-marathon. On May 8th, I decided I hated running and
attended my first CrossFit class thanks to a discount coupon. I was
instantly addicted and told my friends one day I WOULD compete.
–
The competition with others in class and with myself over time are
such driving aspects of this workout. I quickly saw changes in my body
and wanted more. I love how strong women are commended and celebrated
in CrossFit, this has helped me love my body and made me proud of my
strength rather than embarrassed by it. For most people, especially
college graduates in the same position as I am, CrossFit is just too
freakin' expensive! It's worth every penny, but it's hard to justify
when you have school loans piling up or house/apartment payments.
Luckily for me, my obsession had me at the box (a.k.a CrossFit gym)
more than most people and my coach decided to hire me to be the social
director (blog, plan events, coordinate with vendors) in place of
membership payment. Considering I blog on a regular basis anyway, I
jumped on this opportunity and I am SO grateful for it. I am extremely
fortunate! This weekend I tested for my CrossFit level 1
coaching certification and I can't wait to help others fall in love
with this workout that has changed my life!
————————————————————————————————————————————-
Karli is an inspiration!  Just like her, I found myself in a Crossfit box through a discount coupon I received off of groupon.  However, you do not need to belong to a Crossfit gym in order to perform Crossfit-style workouts.  There are plenty of online sites that can provide you with daily  workouts!